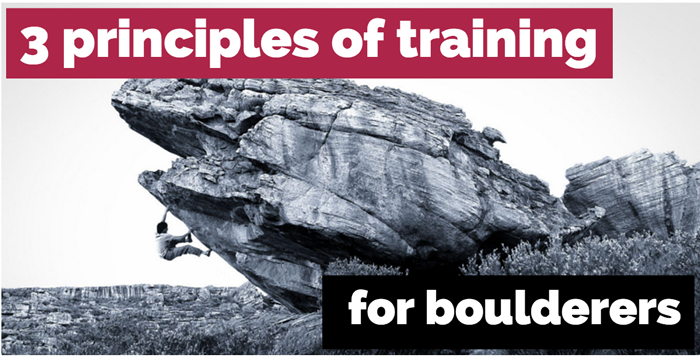 This article was kindly written for us by Dan Mirsky over at TrainingBeta.com, where you'll find training programs, training articles, training videos, and a training podcast. They offer an online subscription program dedicated to training for boulderers of all abilities, the Bouldering Strength and Power Program, and in this article they'll explain what you need to do to properly train for bouldering, whether you're following their program or not.
Enter TrainingBeta…
Although summer is just getting started, shorter days and cooler temps will be here before you know it, so soon it'll be time to get trained up to crush your bouldering projects. So what does that mean? Well, most hard boulder problems…
a) have bad holds that are far apart and
b) require the ability to do a continuous series of hard moves before you can stand on top and high five your buddies or scream your head off in Spanish.
The 3 Things You Need In Order To Send Harder
Sounds like you need the combination of finger strength, dynamic power, contact strength and power endurance. Here's how you get that.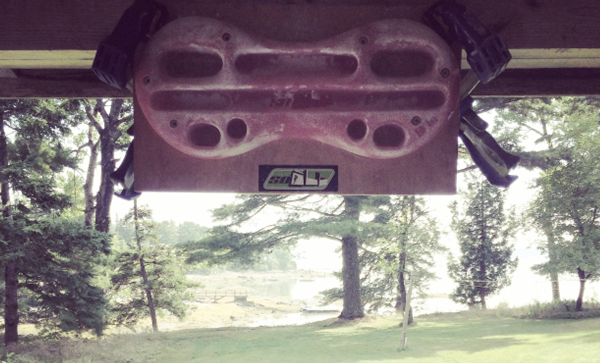 Fingerboard
The rise in popularity of the fingerboard should come as no surprise to anyone. To target pure finger strength (read: the ability to hold bad holds), there is no better training than on a fingerboard. Despite the fact that it can be boring, training on a fingerboard using timed hangs, hypergravity (strapping weights to your body during the session), and a variety of other workouts will get your fingers feeling like vice grips more quickly and effectively than anything else.
It is for this reason that fingerboarding is one of the main components of the TrainingBeta Bouldering Strength and Power Program.

Campus Board
Now that you are on your way to being able to hold anything that your bouldering project throws at you, you need to figure how to move from one terrible grip to the next. Often times, no amount of technical footwork can substitute the need for pure explosive dynamic power.
Campus board training targets this specific kind of power by focusing on footless dynamic movements between rungs. But it also teaches a technique for generating upward momentum when your hands are far apart. Additionally dynamic campus workouts specifically train contact strength (your ability to latch a hold and stay on it). Even if you're a beginner using feet on the campus board, it can still help you train power until you can get to the point where you're taking your feet off and truly campusing.
Through a variety of campus board workouts, the TrainingBeta Bouldering Strength and Power Program will train you to be able to generate power and explode up the wall, regardless of how far apart the holds are, how bad the foot is (you won't even need one), catch the next grip, and stick to it like it was covered in grip tape.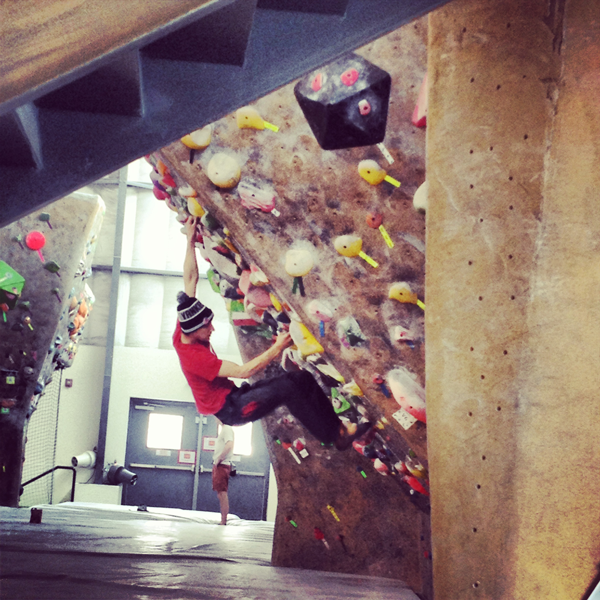 Power Endurance
So now you can hold anything, bust the biggest move imaginable, and stick to the next minuscule hold, what else do you need? Either a two-move boulder problem project or some power endurance. Simply put, power endurance is your ability to continue to perform powerful/hard moves without getting fatigued. Things like 4×4's on the bouldering wall and strength training with higher reps in the weight room will increase your power endurance threshold. Soon you will be able to literally keep cranking hard move after hard move without a thought of pumping out, which will give you the confidence to keep cranking, regardless of how long, high or scary your proj is.
The TrainingBeta Bouldering Strength and Power program is designed to specifically target these key areas by focusing on hangboard training, campusing, specific power endurance bouldering workouts, plus targeted weight-bearing and body-weight exercises. It'll provide you with 3 workouts every week for every level of climber, video instruction for every exercise, and workouts that last less than 3 hours.
Climbers have finally started to realize that sport specific training is the best way to make gains in performance – not just climbing, and whether you're training on your own or with the TrainingBeta program, you need to target the specific skills and strengths that hard bouldering demands.
CruxCrush Discount!
If you're a reader of CruxCrush, you get 25% off of any of the subscription plans for the Bouldering Strength and Power Program because we know you guys are so psyched on training. Your first month, or 6 months, or yearly payment will be 25% off the normal price. You just need to use the coupon code "CruxCrush" at checkout to get the discount, and you can sign up with that free 14-day trial at the Bouldering Strength and Power Program page.
We'd love to have your feedback if you do try it out, and if you ever have any questions about anything training or TrainingBeta, just email us at info@trainingbeta.com. Whether you train with our programs, with a personal trainer, or on your own, we wish you the best with your climbing!
Happy training!
Top Photo Credit: Andy Mann